Wyld
Real Fruit Strawberry 20:1 CBD:THC Gummies 10-pack
*Sales tax will be added at checkout.
Wyld's Strawberry 20:1 CBD:THC Enhanced Gummies are made with real fruit and enhanced with cannabis-derived CBD oil. Relaxing your body while keeping your mind sharp and alert. It is the go-to gummy if you are looking to decompress or take the edge off, but still have things to check off of your to-do list. Sugars Sugar, Tapioca Syrup, Strawberry Juice Concentrate, Fruit Juice Concentrate (color)I, Water, Gelatin, Natural Flavouring, Coconut Oil, Pectin (Pectin, Sodium Citrate), Citric Acid, Cannabis Extract, Malic Acid, Sunflower Lecithin, Terpenes (Limonene, Linalool, Alpha Pinene, Beta Pinene), / Sucres [Sucre, Sirop de tapioca, Concentré de jus de fraise, Concentré de jus de fruits (couleur)], Eau, Gélatine, Arôme naturel, Huile de noix de coco, Pectine (Pectine, Citrate de sodium), Acide citrique, Extrait de cannabis, Acide malique, Lécithine de tournesol, Terpènes (Limonène, Linalol, Alpha Pinène, Bêta Pinène) Calories: 10, Total Carbs: 3g, Total Sugars: 2g
Calm
Clear Mind
Happy
Relaxed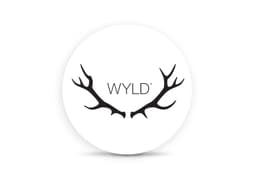 Wyld was founded in 2016 to create best-in-class cannabis edibles using real fruit and natural flavors. What began as three college friends over a two-burner stove is now a best-selling edibles brand. Wyld has made this journey by remaining independent, and staying true to their vision of a better definition of success. Wyld embraces challenges, tests boundaries, and lives life to the fullest. They have focused on building a strong community of retailers, budtenders, and consumers who all agree on one thing: Wyld Works. Real fruit. Real flavor. Real quality. That's the Wyld way. Grab a box today and find out why Wyld is America's top-selling edible!